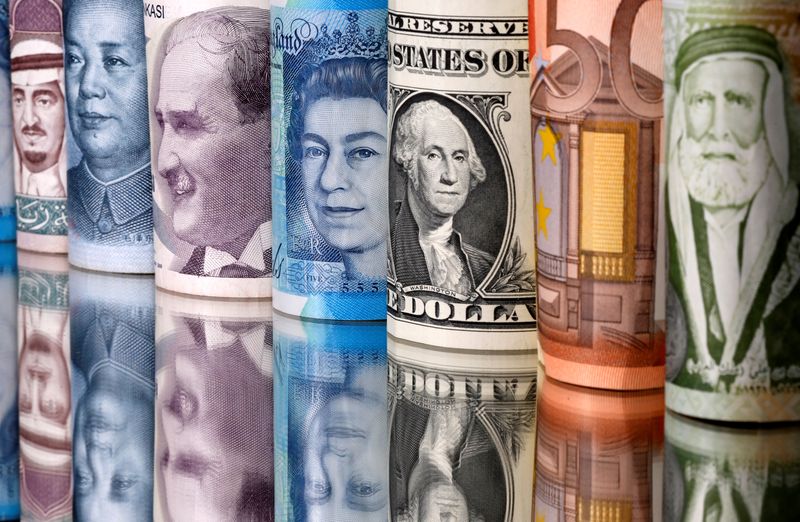 © Reuters. FILE PHOTO: Saudi riyal, yuan, Turkish lira, pound, U.S. dollar, euro and Jordanian dinar banknotes are seen in this illustration taken January 6, 2020. REUTERS/Dado Ruvic/Illustration
(Updates prices, currency futures positioning)
By Gertrude Chavez-Dreyfuss
NEW YORK (Reuters) – The dollar tumbled on Friday after the U.S. nonfarm payrolls report for October showed the world's largest economy created more new jobs than expected, but also flashed signs of a slowdown with a higher unemployment rate and lower wage inflation.
The greenback initially rose immediately after the data, but fell as market participants digested the jobs report, noting the data was not all positive and supports the view the Federal Reserve could slow the pace of future rate hikes.
U.S. nonfarm payrolls increased 261,000 last month, data showed on Friday. Data for September was revised higher to show 315,000 jobs added instead of 263,000 as previously reported. Economists polled by Reuters had forecast 200,000 jobs, with estimates ranging from 120,000 to 300,000.
However, the unemployment rate rose to 3.7% from September's 3.5%. Average hourly earnings increased 0.4% after rising 0.3% in September, but the rise in wages slowed to 4.7% year-on-year in October after advancing 5.0% in September.
The fed funds futures on Friday priced in a 52.5% chance of a 75-basis-point interest rate hike next month, and a 47.5% probability of a 50-basis-point increase. The odds of a 75-basis-point rise went as high as 64% immediately after the payrolls data.
The Fed's terminal rate, or the level at which rates would peak, slipped to 5.09% late on Friday, from about 5.2% just before the data.
"Although today's report is a pretty mixed bag overall, we do not see how the Fed can look at this data and think that they are making meaningful progress towards getting inflation under control," said Thomas Simons, money market economist, at Jefferies in New York.
"Payroll growth is slowing and wage growth is decelerating, but neither one is slowing fast enough. Today's data leaves the possibility of another 75-bp rate hike firmly on the table for the December FOMC meeting, though obviously we have several other important data releases between now and then."
Despite the strong jobs data, Fed officials on Friday said a smaller rate increase is still on the table for the December policy meeting.
The jobs numbers show "the labor market remains tight," Richmond Fed President Thomas Barkin told broadcaster CNBC soon after the release of the data, adding he nevertheless is ready to act more "deliberatively" on the pace of future rate increases even as he keeps an open mind on the outcome of the next policy meeting in December.
The dollar fell 1.1% against the yen to 146.65 yen, posting losses for a third straight week.
The euro, on the other hand, rose 2.2% to $0.9960.
The , a measure of the greenback's value against six major currencies, fell 1.9% to 110.77, on track for its largest one-day percentage loss since November 2015.
Speculators reduced their net long bets on the U.S. dollar to $3.08 billion for the week ended Nov. 1, compared with a net long position of $10.21 billion last week, according to calculations by Reuters and U.S. Commodity Futures Trading Commission data released on Friday.
The U.S. currency firmed on Wednesday and Thursday after Fed Chair Jerome Powell on Wednesday said the central bank could continue to increase rates if inflation does not slow, causing markets to price in a higher peak for U.S. rates.
========================================================
Currency bid prices at 4:11PM (2011 GMT)
Description RIC Last U.S. Close Pct Change YTD Pct High Bid Low Bid
Previous Change
Session
Dollar index 110.7200 112.9700 -1.97% 15.740% +112.9900 +110.7000
Euro/Dollar $0.9963 $0.9750 +2.18% -12.37% +$0.9967 +$0.9745
Dollar/Yen 146.6150 148.2600 -1.10% +27.37% +148.3950 +146.5700
Euro/Yen 146.06 144.55 +1.04% +12.08% +146.1400 +144.2400
Dollar/Swiss 0.9936 1.0138 -1.99% +8.93% +1.0143 +0.9932
Sterling/Dollar $1.1378 $1.1159 +1.94% -15.88% +$1.1382 +$1.1150
Dollar/Canadian 1.3471 1.3750 -2.02% +6.55% +1.3750 +1.3468
Aussie/Dollar $0.6477 $0.6288 +3.01% -10.90% +$0.6483 +$0.6285
Euro/Swiss 0.9899 0.9879 +0.20% -4.53% +0.9901 +0.9848
Euro/Sterling 0.8753 0.8736 +0.19% +4.21% +0.8785 +0.8700
NZ $0.5933 $0.5776 +2.71% -13.33% +$0.5936 +$0.5756
Dollar/Dollar
Dollar/Norway 10.2390 10.5725 -3.18% +16.19% +10.5775 +10.2300
Euro/Norway 10.2008 10.3123 -1.08% +1.88% +10.3264 +10.1570
Dollar/Sweden 10.8871 11.1648 -0.67% +20.73% +11.2050 +10.8859
Euro/Sweden 10.8470 10.9201 -0.67% +5.99% +10.9237 +10.8302