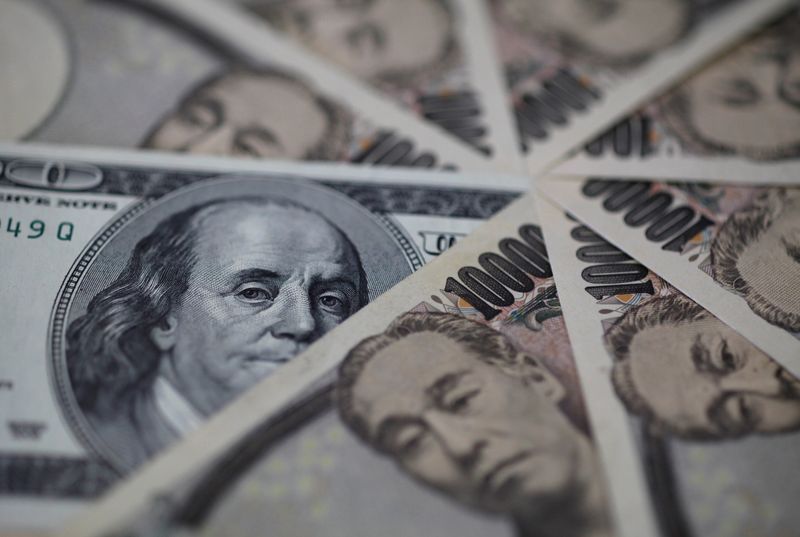 © Reuters. FILE PHOTO: A U.S. hundred dollar bill and Japanese 10,000 yen notes are seen in this photo illustration in Tokyo, February 28, 2013. REUTERS/Shohei Miyano
By Rae Wee and Harry Robertson
SINGAPORE/LONDON (Reuters) – The dollar slipped on Thursday after a raft of data showed the U.S. economy is losing momentum, while the yen rebounded as traders continued to bet the Bank of Japan will shift away from ultra-loose monetary policy.
U.S. data released on Wednesday showed retail sales fell by the most in a year in December and manufacturing output suffered its biggest drop in nearly two years, stoking fears that the world's largest economy is headed for a recession.
The figures prompted a sharp drop in U.S. government bond yields as investors bet the Federal Reserve would be unable to raise rates as high as previously expected and sought out safe assets.
Analysts said the fall in yields, which makes dollar-denominated bonds less attractive, was one factor weighing on the greenback, along with a rebound in Japan's yen.
The euro was last up 0.23% against the dollar at $1.082. It hit a nine-month high of $1.089 on Wednesday before paring its gains.
"The developments make us more confident that the Fed is getting close to the end of their tightening cycle, and support our bearish U.S. dollar outlook," said Lee Hardman, senior currency analyst at Japanese bank MUFG.
Yet Hardman said the dollar should not fall too far, given it's seen as a safe asset in times of economic stress.
Meanwhile, the dollar fell against the Japanese yen and was last 0.57% lower at 128.17 yen. That almost unwound the previous day's rally, which came after the BOJ's decision to stand pat on its ultra-loose monetary policy.
Defying market expectations, the BOJ kept its interest rate targets and policy of yield curve control intact, and instead crafted a new weapon to prevent long-term rates from rising too much in a show of resolve.
The decision sent the yen plunging some 2% against the greenback, although the currency later rebounded to finish roughly 0.6% lower.
"It's really reflecting the fact that market participants are still speculating (on) a shift in the Bank of Japan's policy despite their inaction yesterday," Carol Kong, a currency strategist at Commonwealth Bank of Australia (OTC:), said of the yen's rebound.
"While there's still high expectations for a policy shift … I think that will keep the yen pretty elevated in the near term."
Sterling slipped less than 0.1% to $1.234, after falling from the previous session's one-month high of $1.244.
The , which measures the greenback against a basket of peers, fell 0.14% to 102.19.
The slumped 0.71% to $0.689, further pressured by a surprise dip in Australia employment in December.
Meanwhile, the lost 0.84% to stand at $0.639.
New Zealand Prime Minister Jacinda Ardern on Thursday made a shock announcement that she would step down no later than early February and not seek re-election.
Investors will be keeping an eye on the World Economic Forum in Davos, Switzerland, where European Central Bank chief Christine Lagarde is due to speak on Thursday.
U.S. economic data will also be closely watched, with weekly jobless claims and housing figures due later in the day.