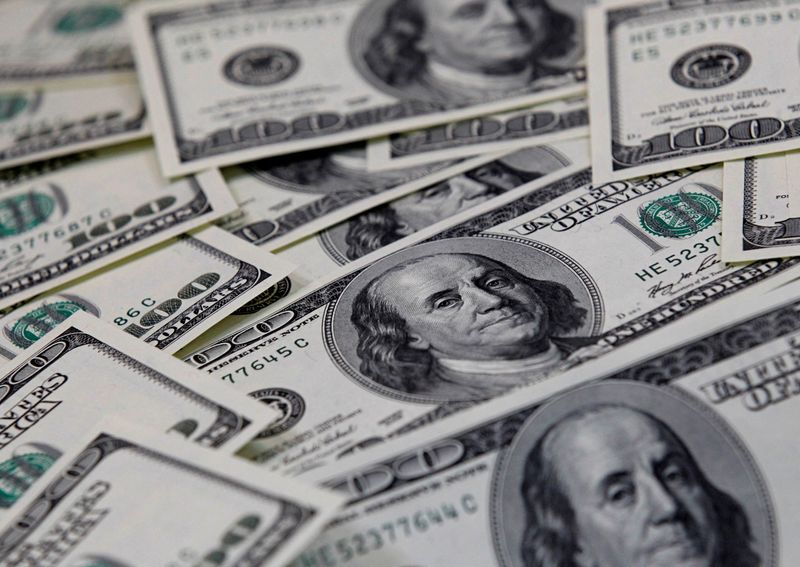 © Reuters. FILE PHOTO: U.S. one hundred dollar notes are seen in this picture illustration taken in Seoul February 7, 2011. REUTERS/Lee Jae-Won
By Karen Brettell
NEW YORK (Reuters) – The dollar fell on Friday after U.S. jobs data showed a strong, but not blockbuster employment picture in December, while a separate report showed that U.S. services industry activity contracted for the first time in more than 2-1/2 years that month.
Employers added 223,000 jobs in December, more than economists' forecasts of 200,000.
Wages also grew 0.3% last month, less than the 0.4% in November and below forecasts of 0.4%. That lowered the year-on-year increase in wages to 4.6% from 4.8% in November.
"There was a bit of a fear that this could be quite a blockbuster print in terms of job growth," which was a risk due to seasonal adjustments that are common in December, said Mazen Issa, senior foreign exchange strategist at TD Securities in New York.
The easing wage growth was also "encouraging," Issa added, though he noted hawkish elements in the data.
"You had the unemployment rate dropping, which was not expected, and an increase in the participation rate," Issa said. "This number doesn't do anybody any favors in determining whether the Fed needs to do 25 or 50 at its next meeting."
The dollar fell 1.17% on the day against a basket of currencies to 103.88, after reaching 105.63, the highest since Dec. 7.
The euro gained 1.19% to $1.0645 and was on track for the biggest percentage daily increase since Nov. 11. The dollar fell 1.03% against the Japanese yen to 132.07.
The greenback extended losses after the Institute for Supply Management (ISM) said its non-manufacturing PMI dropped to 49.6 last month from 56.5 in November. It was the first time since May 2020 that the services PMI fell below the 50 threshold, which indicates contraction in the sector that accounts for more than two-thirds of U.S. economic activity.
The Commerce Department also said on Friday that factory orders dropped 1.8% in November, after gaining 0.4% in October. Economists polled by Reuters had forecast orders falling 0.8%.
Atlanta Federal Reserve President Raphael Bostic said on Friday that the latest U.S. jobs data was another sign that the economy is gradually slowing and should that continue the Fed can step down to a quarter percentage point interest rate hike at its next policy meeting.
Richmond Fed President Thomas Barkin also said the U.S. central bank's move to smaller interest rate hike increments would help limit damage to the economy.
The Fed hiked rates 50 basis points at its December meeting, after making four consecutive 75-bp increases.
Fed funds futures traders increased bets the Fed will hike rates by 25 bps at the conclusion of its two-day meeting on Feb. 1 after Friday's data. A 25-bp increase is now seen as a 73% probability, compared with 54% before the jobs report, with a 50-bp hike now seen as a 27% probability.
Highly anticipated consumer price data due on Jan. 12 could influence U.S. central bank policy.
It is expected to show that headline prices were unchanged in December while core prices increased 0.3%.
========================================================
Currency bid prices at 3:03PM (2003 GMT)
Description RIC Last U.S. Close Pct Change YTD Pct High Bid Low Bid
Previous Change
Session
Dollar index 103.8800 105.1200 -1.17% 0.377% +105.6300 +103.8600
Euro/Dollar $1.0645 $1.0521 +1.19% -0.64% +$1.0648 +$1.0482
Dollar/Yen 132.0650 133.4100 -1.03% +0.71% +134.7650 +132.0000
Euro/Yen 140.58 140.36 +0.16% +0.20% +141.4400 +140.2400
Dollar/Swiss 0.9276 0.9363 -0.93% +0.31% +0.9407 +0.9273
Sterling/Dollar $1.2095 $1.1908 +1.59% +0.03% +$1.2099 +$1.1842
Dollar/Canadian 1.3435 1.3568 -0.98% -0.84% +1.3664 +1.3435
Aussie/Dollar $0.6876 $0.6752 +1.85% +0.89% +$0.6884 +$0.6722
Euro/Swiss 0.9875 0.9851 +0.24% -0.20% +0.9883 +0.9849
Euro/Sterling 0.8800 0.8835 -0.40% -0.50% +0.8870 +0.8798
NZ $0.6352 $0.6223 +2.13% +0.09% +$0.6360 +$0.6193
Dollar/Dollar
Dollar/Norway 10.0015 10.2595 -2.49% +1.94% +10.3005 +10.0040
Euro/Norway 10.6486 10.7654 -1.08% +1.48% +10.8140 +10.6190
Dollar/Sweden 10.5206 10.6804 -0.26% +1.08% +10.7479 +10.5177
Euro/Sweden 11.1995 11.2290 -0.26% +0.45% +11.2924 +11.1978