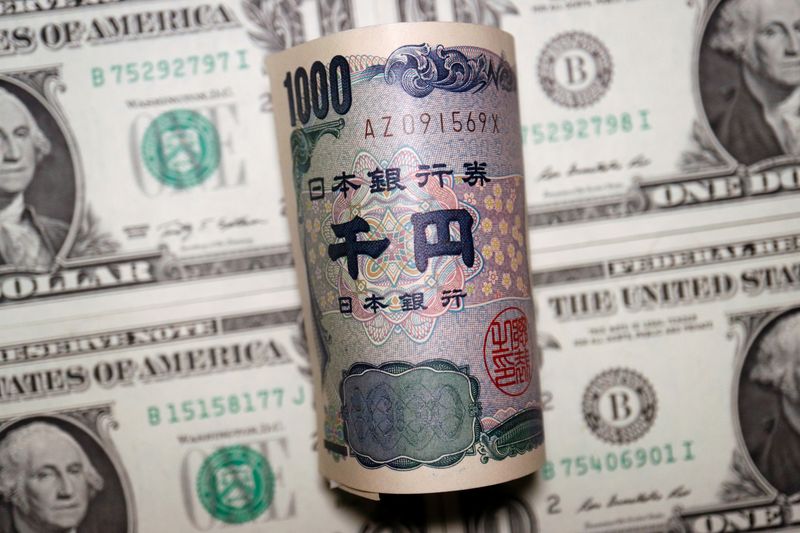 © Reuters. FILE PHOTO: Japanese yen and U.S. dollar banknotes are seen in this illustration picture taken June 16, 2022. REUTERS/Florence Lo/Illustration
By Ankur Banerjee and Samuel Indyk
SINGAPORE/LONDON (Reuters) – The yen slid against major currencies on Wednesday after the Bank of Japan maintained ultra-low interest rates, disappointing some investors who had hoped the central bank would relax its yield curve control policy further.
The central bank stunned the market last month by raising its cap on the 10-year yield to 0.5% from 0.25%, doubling the band it would permit above or below its target of zero. Since then, speculation had swirled that the BOJ could tweak its yield curve control (YCC) policy further or even scrap it.
At a two-day policy meeting, the BOJ kept intact its YCC targets, set at -0.1% for short-term interest rates and around 0% for the 10-year yield, by a unanimous vote. It also made no change to its guidance that allows the 10-year bond yield to move 50 basis points either side of its 0% target.
As a result, the yen suffered broad losses, with the Asian currency down 1.7% against the dollar and was set for its worst day since mid-December.
The euro and sterling gained 2% to 141.08 yen and 160.351 yen, respectively. The Australian dollar gained 1.9%. The U.S. dollar was last up 1.6% at 130.20 yen, its biggest daily jump against the yen in a month.
"The BOJ was likely surprised by the reaction to its policy tweak in December which is likely why they didn't take new intitiatives today," said Nordea chief analyst Niels Christensen.
"The BOJ's forecasts are expecting higher inflation which is why we expect monetary tightening further down the road," Christensen added, although he said that would likely to come when a new BOJ governor is in place in April.
Some investors have been betting the BOJ will be forced to adjust, or even dismantle, YCC on the view the central bank cannot sustain the massive volume of bond buying needed to defend the cap.
On Wednesday, Japanese government bond yields tumbled the most in two decades at one point, retreating sharply from the central bank's 0.5% ceiling after the decision. The 10-year yield has repeatedly breached the ceiling in the past four sessions.[JP/T] (Graphic: Japan's yen and yields, https://fingfx.thomsonreuters.com/gfx/mkt/zdpxdrknjpx/Pasted%20image%201674010858281.png)
"The downtrend in dollar-yen is still intact," Nordea's Christensen said.
"We'll likely see a lower dollar-yen going forward but for now we might see some range trading until we get more data on the inflation outlook," Christensen added.
The , which measures the safe-haven dollar against six peers including the yen, fell 0.2% at 102.19.
Sterling rose to its highest level in over a month even as consumer price inflation fell to a three-month low as core CPI failed to moderate, remaning at 6.3%. The pound was last up 0.4% at $1.2330.
"The small fall in CPI inflation … and unchanged core rate … suggests it is too early for the Bank of England to declare victory in its fight against inflation," said Capital Economics senior UK economist Ruth Gregory in a note.
"With underlying inflation, activity and wage growth all ending last year a bit stronger than expected, we doubt the Bank of England will call time on rate hikes."
Meanwhile the euro strengthened 0.5% to $1.0846, approaching its highest level since April 2022 of $1.0874 reached on Monday.
The Australian dollar rose 0.7% to $0.7034, while the rose 0.9% to $0.6487, its highest level in a month.